The regular season's over and a lot of things went according to plan, but the basketball gods threw us a few bounce passes here and there, just to see if we were paying attention. For example, one of the worst teams in the league inexplicably played at a 65-win pace for two months, out of nowhere. Oh, and one of the best centers in the league got traded for peanuts. That was weird. Yesterday I looked back on all the predictions I made for half of the league —mistakes were made— and here's the other half. I should probably watch more basketball.
Miami Heat
Prediction: 13th in the East, likely tankapalooza candidate
Actual: 9th in East, eliminated on final day of season
Relevant epitaph:
I wouldn't be surprised if they go full tank mode by January.
And they almost did! Pat Riley hinted as much in a radio interview, when they were 11-30 and had one of the worst records in the league. Even with a renaissance from Goran Dragic and some maturity from Hassan Whiteside, how was this bunch supposed to be competitive, with Justise Winslow out for the year, no Chris Bosh and a roster of castoffs?
What happened next was straight out of a sports movie script. They got the mother of all contract drives from Dion Waiters. James Johnson got in serious shape and played like a 6MOY candidate. They got contributions from Tyler Johnson and some dude named McGruder. People like Wayne Ellington and Luke Babbitt couldn't miss from outside. From January to March the Heat were the best team in the league, with practically every game adding to their "win montage." They even beat the Warriors. They only ran out of steam in April when Waiters got hurt. Literally a tweaked ankle from Dion freakin' Waiters is what kept this team out of the playoffs.
In the end, just missing the playoffs might be the best thing for them. They can say they won their final game of the season if nothing else, and who knows, maybe karma will reward them for not tanking with some lucky lottery balls. The real organizational concern has to be Winslow, who was quietly killing them with his terrible shooting before getting hurt. It's difficult to project him developing into a star at this point. But in the grand scheme of things the Heat will probably figure out a way to be competitive because they're the Heat and that's what they do.
Milwaukee Bucks
Prediction: 12th in East
Actual: 42-40, 6th seed, and the Raptors will be lucky to beat them in 7
What dumb thing did I write?
If somehow the Bucks could hang on the periphery of playoff contention for the first 50 games, like say, within three games of the eighth seed, then maybe they can fight for a postseason berth. Adding Middleton would seem like one of the best trade dead-line acquisitions of the season, a 40 percent shooter from three who's also one of the best wing defenders in the league. I just can't see it happening though.
Ooh, so close. I should've had more faith in the Freak. Not only was Middleton back to his usual devastating self from the moment he returned, but the Bucks even survived Jabari Parker getting hurt again. A couple of trades worked out in their favor, as they shipped out Michael Carter-Williams for Tony Snell —Kawhi Leonard's old high school teammate— who quietly shot 40.6 percent from outside; and Michael Beasley has been a force for them off the bench and all he cost was Tyler Ellis. Most surprising of all was Malcolm Brogdon, the 36th pick of the draft, who might wind up winning Rookie of the Year.
It's not all peaches and cream for the Bucks. Parker may have developed as a dynamic scorer this season, but he was atrocious in his own end and wound up being a net negative. He also appears to be injury prone. Rashad Vaughn, a first-round pick a year ago, looks like a bust. This season's draft class looks a lot more promising. Not only has Brogdon been a great value pick, but Thon Maker's going to be a stud in a few years.
The Bucks are like the Spurs in that it boggles the mind why they don't take more threes. Everyone on the squad except for Antetokounmpo can drill them. They're going to make life hell for Canadians these next two weeks, and on the rest of the conference for the next decade.
Minnesota Timberwolves
Prediction: 8th in the West, fun cannon fodder for the Warriors in the first round
Actual: 13th in the West, fun cannon fodder for pretty much everybody
The relevant bit:
What I do know is for the first time in their professional careers the T-Pups will be dealing with real expectations and pressure. They will be everybody's League Pass darlings for anytime the Warriors aren't on, and unlike the Dubs, and why shouldn't they be? They're fun to watch. Unlike the Warriors though, people will actually be rooting for these guys to win, everyone's second-favorite team du jour. But people will cheer on lovable losers but for so long. And you can't be a darkhorse if everyone expects you to start winning. The Thunder jumped from 23-59 in 2008-09 to 50-32 the next season. Is it fair for us to attach those same hopes to the Wolves? Will they be a disappointment if they go 39-43 --a 10-win improvement from the year before-- and miss the playoffs?
It turned out to be a pitiful two-game improvement and Thibs didn't help improve their defense much at all, as the T-Pups finished tied-for-26th in defensive rating. However, the Wolves as a whole were much better than a 31-win team. Their net rating of -1.0 was 20th in the league. They led the league in blown double-digit leads. They're just a bunch of kids who don't know how to close games or re-adjust to an opponent's halftime adjustments. They'll get better, soon.
Karl-Anthony Towns is the real deal. After a slow start to his season, he came on like gangbusters and became the youngest player in league history to average 25 and 12, and he did so while sporting a 54.2/36.7/83.2 shooting line. Wiggins is who he is, a one-dimensional second banana, but he can fill it up. The guy they've got to move is Zach LaVine. They played better after he got hurt, which was telling. It's one thing to have one wing who doesn't guard anybody, but you can't have two.
The Wolves will be one of the most fascinating teams to watch in the off-season. Not only will they have yet another top-10 pick, but it'll be interesting to see what they do at point guard between Rubio and Kris Dunn who (16-assist finale aside) was quite disappointing in his rookie campaign. The older, more expensive Rubio would seem to be the likelier trade candidate, but like Towns he played his best once LaVine was out of the picture.
New Orleans Pelicans
Prediction: 12th in the West, going nowhere fast
Actual: 10th in the West, in the midst of a kooky experiment
Let's check in with where we were with the Pels back in October:
There just isn't enough shooting or defense here and it's easy to imagine Davis growing more and more frustrated and disillusioned as teams like Utah and Minnesota pass him by on the standings. Maybe PATFO can offer Aldridge and some first-round picks at the trade deadline for him, just to watch the world burn.
Yes, yes, all well and good except instead of trading Davis for a supposedly disgruntled big-man, they acquired the disgruntliest of them all to pair with Brow for a couple months. The results with Boogie Cousins were mixed, and to be fair to them they were too far behind the eight ball in the standings to have a real shot to climb back into the playoff chase. The real test will come next year, after an off-season spent tweaking the roster, presumably for some perimeter help. But there's a very real chance we'll be in this same spot next trade deadline, if the Pelicans are again floundering and haven't secured a contract extension from Cousins (or if they're still even interested in him signing one).
New York Knicks
Prediction: 8th in East, going down meekly to the Raptors
Actual: 12th in East and probably would've been last if season lasted another month
Some pitiful hedging:
Their two stars might be enough to drag them to the postseason anyway, thanks to the expected declines of the Heat, Hornets and Hawks, but they'll need Rose and Noah be merely bad instead of downright liabilities, and I'm not about to bet on that.
You know how when teams are struggling and the media is circling in on a coach who looks doomed and the owner or the GM or whomever gives the dreaded "vote of confidence" which all but assures that the head whistle should call the realtor? That's kind of like what my eighth-place pick for the Knicks was. It's not that I thought they'd be any good, I just had less confidence in the other teams. I feel bad about the Bucks but I'm not about to apologize for downgrading the Hawks. Anyway, Porzingis didn't set the world on fire his second season, 'Melo was the personification of Eey-ore and the vets from Chicago were among the worst starters in the league.
The Knicks had a couple of rookies I liked on the down low in Willy Hernangomez and Mindaugas Kuzminskas and they'll be in position to add more talent in the lottery. If they can just mothball the triangle and offload Anthony for something, anything, they can start looking forward. But they just extended Phil Jackson for two more seasons so get ready for more of the Trump presidency in basketball form.
Oklahoma City Thunder
Prediction: 10th in West, with Russell Westbrook missing a bunch of games with injuries
Actual: 6th in West, probably losing to the Rockets in five or six games in the first round.
What did the fat dummy write?:
Westbrook will wreak havoc, he'll try to take on the world, 1-on-7 billion, and maybe wind up hurting himself in the process due to some fatigue-related injury. The Thunder might be like a college team, shooting terribly from the floor and finishing with more turnovers than assists on a nightly basis. It'll be fun for a while, and then maybe a little sad by February or so.
What I didn't realize is that Mr. Furious would have so much rage coursing through his veins that he was no longer vulnerable to human frailties like muscle fatigue, ligament strains or bone bruises. He basically never got tired of trying to murder everybody. It was his ball, every possession, for 36 frenetic minutes and 80 games.
Were the Thunder any good? No, not really. It took Westbrook playing like a maniac for them to barely beat middling teams. They could've just as easily been 36-46 if not for his heroics. Their scoring differential for the season was 0.8. The Nuggets' was 0.5. There isn't much of a difference between the two clubs. Like the 2005-06 Lakers and the 1985-86 Bulls, we saw the limits of how much a team can achieve when one guy holds the rest of his teammates ransom. I'm not saying I'd prefer the Spurs to face the Thunder than the Grizzlies or anything, but that has more to do with Andre Roberson and their two big galoots than it does Westbrook.
Orlando Magic
Prediction: 11th in the East
Actual: 13th in the East
In sum:
I mean, what even is this roster?

It's like running a fantasy draft on auto-pick only you had to forfeit the first two rounds because you never paid your league dues last year. Orlando has a bunch of players who are interesting and capable of putting up an impressive stat-line or a fun GIF on any given night, but I'm not sure if they have even one guy I'd want on my team. They're literally the Magic Kingdom of teams. All their main attractions are overpriced, you're guaranteed to be surrounded by immature brats and you'll be ready to get the hell out of there after 48 hours.
Yeah, amazingly the hodgepodge of Bismack Biyombo, Jeff Green, Aaron Gordon, Nikola Vucevic and Serge Ibaka up front didn't work. The Magic were painfully thin at the wing, the second-worst three-point shooting team in the league, and even a few eyebrow-raising showings from Elfrid Payton couldn't prevent the offense from being D.O.A. Eventually they shipped off Ibaka for Terrence Ross, but it's clear the Magic have no direction or plan.
"Au contraire," countered GM Rob Hennigan. "Here's our plan."
Yeah, they fired him for that.
Philadelphia 76ers
Prediction: 14th in the East
Actual: Booyah
He's got miles and miles to go of course, but unlike Okafor or Noel, he's the only one of the bigs who projects to being a legit, two-way threat. If he continues to blossom during the regular season and shows that he can stay healthy, I would think that the Sixers will trade either one or both of the other two at the deadline for some much-needed backcourt help or more of those dreaded "assets."
Poor Brett Brown. Ben Simmons missed the whole season recovering from surgery. Joel Embiid looked like a force of nature, in spite of his minute restrictions, yet lasted only 31 games before going on the shelf again with a torn meniscus. Noel was shipped for peanuts and Okafor was a disgrace, a mortal lock to be moved in the summer for pennies on the dollar.
There was some good news scattered among the debris. Dario Saric proved to be a legit player and Robert Covington showed some promise as a perimeter defender. As ever, there will be more 19-year-old saviors on the way. Not only will the Sixers have their own lottery pick, but they can get the Lakers' pick as well as long as it doesn't fall between the 1-3. Also, if the Kings happen to get lucky with the lottery balls, Philly will have the option to swap picks with them. More than anything the franchise is overdue for some injury luck, but you wonder if it'll ever happen for them. That they traded for Sparkles seems like a cruel joke.
Phoenix Suns
Prediction: Dead last in the West
Actual: I'm like a wizard or something.
Most people are higher on Booker than I am (or did you not notice I literally compared him to Kevin Martin?), but I must admit he tore up the Las Vegas Summer League and has been impressive so far in preseason. Guys usually improve the most between year one and two, so I can easily see Booker averaging over 20 a night this season. But It'll be those Ray Allen/Reggie Miller/Allan Houston empty 20-1-1 stat lines that look good on the highlight shows but don't really help you win games. They're also getting a second tour of duty from Leandro Barbosa, in case Booker's defense isn't half-hearted enough.
Some Suns fans got upset with me after this passage, and perhaps they feel vindicated after Booker averaged 22.1 ppg this season and scored 70 against Boston. And to them I say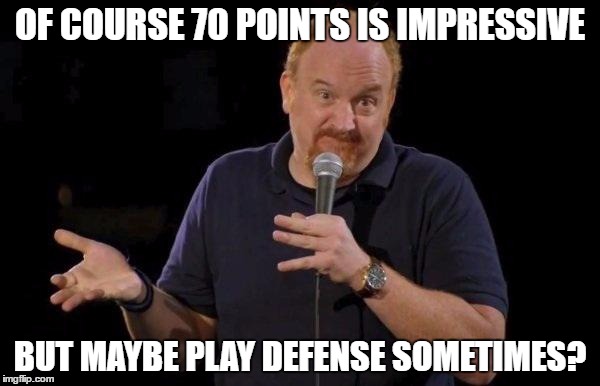 Also, his PER was 14.6. Eric Bledsoe was quietly pretty awesome this year and Marquese Chriss looks like he might be a player, but the Suns remain a ways away from being competitive.
Portland Trail Blazers
Prediction: 4th in West, losing to Warriors in 7 games in the Western semis
Actual: 8th in West, losing to Warriors in 3.5 games in the first round.
Say, this wasn't embarrassing:
All they've really lost is a backup wing in Gerald Henderson, and they upgraded there with Evan Turner while also adding a quality --albeit injury prone-- rim-protector in Festus Ezeli. My concern is they overpaid for both, but that's a problem for the future, not the present.
Ezeli might've done less harm for the Blazers than Turner, actually. Portland was one of the most disappointing teams in the league for most of the season, thanks to woeful production from their frontcourt, but they had a revival ever since trading Mason Plumlee for Jusuf Nurkic, who's infused the whole team with much-needed fire and energy. Unfortunately, this being the Blazers, he broke his leg and likely won't be available for the playoffs, thereby insuring that the Warriors will put them to the sword quickly. It's still not going to damper my enthusiasm for them going forward, but gee whiz can they find a real power-forward already?
Sacramento Kings
Prediction: 14th in West, clueless, dour and miserable
Actual: 12th in West, just clueless
A look back:
I'll be shocked if the Kings ever win a damned thing with Boogie Cousins and I'm pretty skeptical about the owner too. The current Kings continue to be one of the most dysfunctional organizations in all of American professional sports. Here's Vivek Rinadive eschewing any accountability for the team's troubles in an interview with USA Today.Here's former Kings general manager Geoff Petrie dishing dirt in kind, in an interview with Deadspin, not taking too kindly his former boss' comments. And then here's Rinadive, meekly apologizing in The Sacramento Bee, after they and the blogsophere roasted him through the coals.
Hey, what do you know? Rinadive and Vlade Divac moved Cousins under the shadiest circumstances possible, repeatedly telling him and his agent that he wouldn't be moved and then flipping him literally in the middle of the All-Star Game so they wouldn't even have to look him in the face. The trade was immediately lambasted, but the fact that they got so little for him says more about Cousins reputation —the league leader in fouls, fouls-per-game and technicals— than it does Kings management. There are no "good guys" to root for in this story, it's all bad.
Buddy Hield might in fact be a decent two-guard. And Cousins' departure opened the door for two rookie big-men, Skal Labissiere and Georgios Papagiannis to get on the floor and both were highly impressive, especially Labissiere. Cousins' former teammates said all the right things publicly after he left, but you could tell the mood of the team was lighter and they looked like they were having more fun. I don't have anything against their guys, I just think their management will find a way to ruin it the good vibes.
Toronto Raptors
Prediction: 1st in the East, losing to Warriors in Finals in 5
Actual: 3rd in the East, losing to Warriors in Finals in 5
Gambling advice from October:
In fact, for you gamblers out there, I'd suggest placing a few shekels on Lowry to win Most Valuable Player. I know, it sounds crazy, but Bovada lists him as 66-to-1 and that's decent value. Think about it. Stephen Curry and Kevin Durant will steal votes from each other and people will be loathe to pick either after they joined forces. LeBron James could take up to a month off to chill in Miami. Russell Westbrook is a popular pick, but no one's ever won MVP without grabbing at least a top-3 seed. That leaves Kawhi Leonard (10-to-1), Chris Paul (33-to-1 and my pick) and Lowry. If he averages 22 and 9 and leads the Raptors to a one seed, it's in play.
/crosses fingers
Lowry was limited to 60 games by injury but DeMar DeRozan took another step forward and held the fort. Jonas Valanciunas didn't progress any and Norman Powell was in and out of the rotation. Neither of their rookie power-forwards stepped up to the challenge at all. It looked like the Raptors were treading water, but then they traded for Ibaka and P.J. Tucker and now look like the most complete team in the East. It remains to be seen if they've got enough three-pointers in them to hang, but if any squad is going to upset the Cavs, it's these guys. I love their depth and they've got the highest defensive ceiling.
Utah Jazz
Prediction: 6th Seed in West, losing to Spurs in 6 games in the first round
Actual: 5th Seed in West, losing to Clippers in 7 games in the first round
Well, this seems sensible:
Bottom line, the Jazz probably have the most balanced ensemble cast of any team in the league. It's a squad full of players ranging from "B+" to "C-." In the East, that'd get you a two or three seed. I'm not sure how well it plays in the West. I'm just not convinced they'll be able to create easy, efficient offense. They won't necessarily have to score more than 95 points to win most nights, but it limits their ceiling.
The Jazz finished a respectable 12th in Offensive Rating, but they played like slugs, ranked dead last in pace. Rudy Gobert was more of an offensive force and they've got five guys who can bomb away from three, not including Bobo. Gordon Hayward had his best season, even though he missed a month, and George Hill was quite helpful when he was healthy enough to play. The Jazz are as deep as anybody and will be a tough out, but they've got such little #fullsquad experience playing together and no playoff experience, so the veteran Clippers are a tough draw for them. I'd have liked their chances more against Houston, frankly. I like the direction of the organization though, but everyone will be on pins and needles during the summer waiting to see if Hayward bolts in free agency. Hill's contract is up too and they don't have Bird rights on him, so it'll take some finagling to bring him back.
Washington Wizards
Prediction: 5th in East, losing to Pacers in the first round
Actual: 4th in East, losing to Raptors in Eastern Conference Finals
How'd this go?
Heaven help me, but despite all my better instincts, I like this team. Or maybe I just dislike them less than Chicago, Milwaukee, Atlanta, Miami, Charlotte and Orlando. I like their size and the fact they upgraded their bigs and got rid of Nene, Drew Gooden and DeJuan Blair. I think Porter, Oubre and Morris will all improve and Beal will play at least 70 games. I'm optimistic about them beyond all reason.
All right, going out a winner. Porter might get a max contract this summer or close to it. Oubre finally showed flashes of being a decent player over the second half of the year, fortifying the bench alongside Brandon Jennings and Bojan Bogdanovic, two late-season acquisitions. Beal held up for 77 games and was a top-5 two-guard in the league. Wall was an absolute stud.
The Wizards might have the best offensive starting lineup in the conference, but they're having a ton of trouble stopping anyone with Marcin Gortat anchoring the paint. Ian Mahinmi has missed most of the season with injuries and he'll be out again to being the playoffs. The Wiz got a favorable draw in round one, against the blah Hawks, and getting star-challenged Boston in round two should help them as well. They're not really the fourth-best team in the league, but match-ups can do wondrous things, as Spurs fans well know.