Good evening PTR. I know things have been a bit somber around here lately, but there are better times ahead. At least we've got each other, right? :-) Exactly. There's still some great basketball to watch, even if our guys are out of it. It stinks to see such a promising season come to an end in the span of a week's time, but it is what it is. The Spurs will be back, they always are. Agree or disagree, I'll take this over last year any day of the week. I wouldn't want to trade places with the Chicago Bulls, that's for sure. Been there, done that, to the tune of a few seasons - and never used it as a crutch to cry on. Spurs fans are better than that.
Tonight we have what promises to be an exciting match up to decide who meets the Oklahoma City Thunder in the NBA Finals. The Boston Celtics and the Miami Heat have beaten each other up for 6 pulse pounding games out East. Miami edged themselves to a 2 game series lead, then dropped 3 in a row, until getting Pierce'd in a game 5 thriller on their home floor. LeBron James decided to silence his haters critics for a few days by dropping 45 in the Garden on Thursday night. All that Hunger Games reading must be paying off.
I don't think the Celtics mail it in for Game 7, though. They play with that urgency that Miami tends to lack with their backs against the wall. Will they be the ones hoisting up the East trophy on Miami's home floor tonight...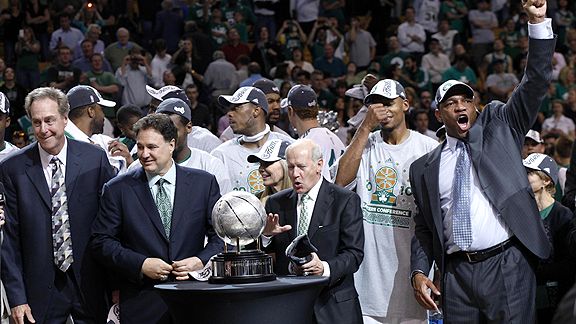 ...as Miami did on Chicago's last year?
Watch and see. Who wins tonight?