Prudential Center, Newark, NJ
Saturday, Feb. 11th, 2012, 7 PM Spurs Time
TV: FSSW - RADIO:
1200 WOAI
It's Saturday, and our Spurs are rolling into the Prudential Center for their only match up of the season against the New Jersey Nets. Our guys have won six straight, beating Memphis twice, the Houston Rockets, the New Orleans Hornets, the Oklahoma City Thunder, and most recently, the Philadelphia 76ers, who were torched at home by our own Tony Parker, continuing his All Star bid with 37 points. Fresh off of two days rest, what do the Spurs bring to the table tonight?
Standings wise, the Nets are in a bit of a tough spot. There have been a few close wins, a few close losses, and then just some blowouts. There was the 36 point loss to Atlanta on December 27th, 19 to Boston on January 4th, 21 to Toronto on the 29th, and most recently, a 21 point blowout to Chicago on Monday. Oddly enough - and I don't know if this says more about the Nets' drive to stay alive, or about the East's slim pickins, but they're only 3 games out of the playoff running, but only 4.5 from the cellar. And that could change tomorrow! Do they tank season and end up with another lottery pick? Or do they go balls out and trade for Dwight Howard, and almost certainly earn a playoff spot?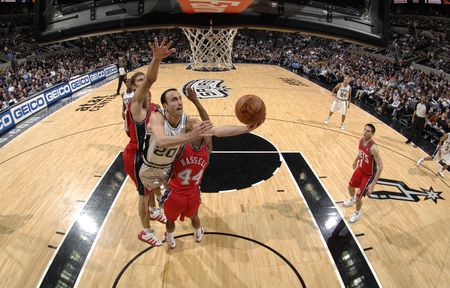 On the Spurs side, in some rather unexpected news, LWM may be over! Goodness willing, we may have a Manu Ginobili sighting tonight. News broke that Pop called Manu "likely" for Saturday's game in New Jersey. It was a long and arduous struggle, but our guys are currently number 2 in the West, on top in the Southwest. Things could be a lot worse. Of course, it's no guarantee that he even sees time tonight. Dusting off my coaching hat, I advise Pop to err on the side of caution. If we need him, use him, if not... let him rest - along with Tim and Frenchie.
New Jersey will have their hands full in the front court, as the tandem of Tim Duncan, Tiago Splitter, DeJuan Blair and floor spacer Matt Bonner will look to dominate the smaller New Jersey four and five positions. New Jersey's frontcourt starters are all 6'9. DeJuan Blair, who works hard against bigger centers, ought to have a great game against New Jersey's smaller lineup. Kris Humphries is New Jersey's go to big man and averages a double-double per game. His preference is to hang around the rim and get high percentage shots. Whoever has defensive duties on Humphries will have to force him to take shots out of his comfort range and settle for mid-range shots. He has been known to settle for these shots if his inside game is not working.
Meanwhile, Tim and Tiago have been putting on a show the last few games. Tim has been in fine form, often times carrying the team for a quarter or two a game. Tiago has been the most effective Spur in the past few games.
New Jersey's offense runs through its back court. Led by Anthony Morrow and Deron Williams, the Nets rely on their two starting guards to score the bulk of its points. Deron Williams has the ability to both slice through defenses and get to rim but to also hit the jump shot in the deadly 16-23 foot range. Morrow has the ability to make mid-range jumpers as well. These mid-range guards have the capability of seriously hurting the Spurs defense as it is common knowledge that Pop more than welcomes opponents' offenses to take mid-range shots rather than high percentage at –the-rim shots. Add to the fact that both of New Jersey's guards rank in the top five of all guards in draining 3s per game and you have a potential disastrous upset for the Spurs.
San Antonio's back court will need to force New Jersey to play offense while getting their bigs into the game. Tony should be able to have his way in this game and may, in fact, see less playing time as Pop will try and use his bench players as much as possible for this game. It will be a bonus to see Neal get some playing time while at the same time breaking out of his current shooting slump. Hopefully the bench and role players step up quickly in this game and allow Tim and Tony to rest. It will be interesting to see if Pop moves Leonard on whichever guard is heating up. Giving Kawhi Leonard as much experience as possible guarding any of the 1-4 positions may be exactly what Pop is looking for in game such as this one.
Numbers wise, the Nets are near the bottom of the league in many major statistical categories. As of Wednesday, they're allowing almost 100 points per game, while scoring only 92, and shooting barely 42% from the field. They're 28th in the NBA in rebounding, at only 39 per contest. The Nets are, however, 9th in free throw percentage, shooting nearly 77% from the line, while the Spurs seemed destined to finish in the NBA's bottom 5 in this category, 26th this week at a dreadful 72.2%.
www.google.com
I mean, we hope it's not, but see the prediction.
Lineups

Starters
PG: Tony Parker
SG: Kawhi Leonard
SF: Richard Jefferson
PF: Tim Duncan
C: DeJuan Blair

Key Bench Players
Gary Neal
Tiago Splitter
Manu Ginobili

Lineups

Starters
PG: Deron Williams
SG: Anthony Morrow
SF: Shawne Williams
PF: Kris Humphries
C: Shelden Williams

Key Bench Players
Jordan Farmar
Sundiata Gaines
Johan Petro
NBA Stats Cube Lineup Comparison Here. Nets perspective can be found here: NetsDaily
Game Prediction: Needless to say, this Saturday evening road game - fresh off of a 6th consecutive victory, followed by two well deserved days off, against an injured, down on it's luck, cellar dwelling, non-title contending team, with a discontent superstar point guard, a former Kardashian, a former Spur * takes a deep breath * and trade rumors surrounding it all season long has trap-game written all over it. Spurs make it 7 straight in a nail biter!
**Editors Note: Extra special thanks to Joe deLarios for the extra in depth analysis on both the Nets and Spurs lineups that you'll read in the middle few paragraphs. Writing credits for this preview are definitely shared with him.**
As always Tony must dominate Fisher, and NBA league pass is recommended for those who are willing to pony up the cash. Almost every Spurs game will be broadcast there, which is especially helpful for those of us who aren't in the San Antonio area. Please don't post links to illegal game feeds in the game thread. Links to illegal feeds are not permitted on SBNation, but you can probably find them out there on the internets if you're resourceful and desperate.