Is the offseason boring enough for you yet? Can't wait to see some hoops action? You're in luck, because the offseason hoops-less doldrums are about to be broken up by the biggest basketball tournament this side of the Olympics. The 2010 FIBA World Championship starts on Saturday, and we'll break it down a bit after the jump.
How it Works
If any of you watched the World Cup this summer, you should be pretty familiar with the format of the FIBA tournament. There's a group round, followed by a single-elimination tournament among the teams that emerge from the group stage. The big difference from the World Cup is that there are only 4 groups, and 6 teams in each group. Those 6 teams will all play each other once in the group stage, and the top 4 teams in each group will move on to the elimiation rounds. Here's how the groups look:
[click the country name to see the roster]
Group A
Argentina
Serbia
Australia
Germany
Angola
Jordan
Group B
United States
Slovenia
Brazil
Croatia
Iran
Tunisia
Group C
Greece
Turkey
Puerto Rico
Russia
China
Côte d'Ivoire
Group D
Spain
France
Canada
Lithuania
New Zealand
Lebanon
In addition to our home countries, Spurs fans might pay special attention to Brazil(Tiago Splitter) and France(Nando De Colo). As we found out earlier this year, Tony Parker and Manu Ginobili are both sitting out this tournament.
PtR Favorites
The following teams are some of the ones to watch in this tournament, that I felt deserved to have little bit more information written about them. Some of them aren't neccessarily tournament favorites, but some of our favorites, because of who plays for them(I'm looking at you, France).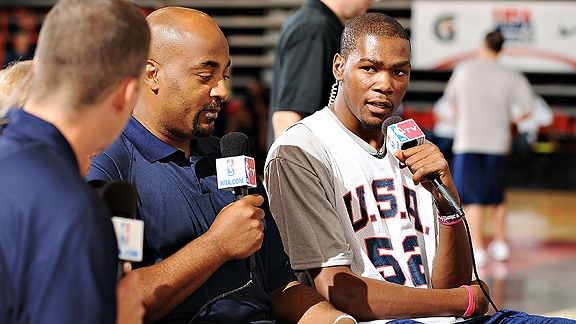 United States: Two years later, and the 2008 Olympics "Redeem Team" is already almost completely gone. New addition Kevin Durant is extremely welcome as this year's go-to scorer, while other newbies like Rajon Rondo and Lamar Odom will hopefully deliver enough to give a respectable showing. The Americans' biggest post threat is Tyson Chandler, so don't expect them to pound the ball inside. Luckily, small ball is much better suited to international competition(for the most part) than it is to the NBA. It won't work against all teams, but it should work against just enough of them. Also, is Slovenia stalking us? Kinda creepy how they were in our World Cup group, too.
Argentina: Without Manu, a lot of folks might say that Argentina's chance are nil. I disagree. The Argies will be led by Luis Scola, who won MVP at the Tournament of the Americas last summer. Without Manu, the Argies still played well enough after a horrid 0-2 start to take 3rd(and the top 3 teams were very, very close). Plus, they still have quite a few NBA-ers on the squad. Look for smart plays, and teamwork that makes the group as a whole greater than the sum of its parts. These are hallmarks of Argentine basketball, and I wouldn't expect them to change.
Spain: Most of the experts on international ball are calling Spain the favorites to win the tournament. It's not that I disagree, but I don't think they're head and shoulders above any of the other contenders. Without Pau Gasol, it's going to be tougher for these guys, even though his younger(and less ugly) brother Marc will be manning the middle for the Spaniards. Rubio, Navarro, and a host of other perimeter threats make this team one of the best in the tournament, but they aren't invincible.
Greece: Greece is a pretty mysterious program to me. Most of their players stay at home to play professional ball, despite the potential for better earnings in the NBA. They seem to play good team ball, but they underwhelmed at Eurobasket last year, and came very close to a loss against Turkey. A familiar name to Spurs fans will be Ioannis Bourousis, who is one of the aforementioned players who turned down good money from an NBA team(the Spurs, no less!) to stay with Olympiacos last summer.
France: Tony Parker's decision to sit out the tournament, combined with Roddy Beaubois's broken foot, mean that Nando De Colo is going to have lead guard duties on the French squad(Also,c heck out the interview he did with Project Spurs recently). At Valencia last year, being the lead guard meant a lot of highlight-reel passes, but a lot of turnovers as well. He's a fun player to watch, and Ian Mahinmi will also be playing for the French, in case he's not dead to anyone here. The French had bad luck at Eurobasket last year, finishing 5th despite only losing one game in the entire tournament, which gave them the best record. But they drew Spain in the first elimination round, and the rest is history.
Brazil: Finally, we come to the team that features the newest [official] member of the Spurs, Tiago Splitter. Between Splitter and Anderson Varejao, Brazil has a pretty good frontcourt. Barbosa and Huertas are the main perimeter threats, along with Alex Garcia, who briefly played for the Spurs in 2003-04. Also of note: Brazil is coached by the same man who led Argentina to the 2004 Olympic gold medal. Nene just got scratched from the team a couple days ago because of a nagging injury, so it looks like Tiago will be the team's full-time center. Let's hope he plays well and avoids injury.
Tournament Schedule
Check here for the schedule of games in the group stage. It looks as though all of the games will be aired on ESPN or ESPN 3, so be sure to check out some of the action live if you can.
So, who do the good folks of PtR think will win? And are any of you going to be watching other teams besides the ones I previewed above? Tell us more in the comments.