I want to start this off by saying how much I appreciate the open forum we have here at PtR. In that spirit, I am posting as much information as I can come up with and linking a few of the other posts around the spurs-o-net that discuss the offseason(at least, the ones I've seen). Also, feel free to use the comments for any suggestions/ideas you have. It's fun to put ourselves in RC's shoes and speculate on what he's going to do, and I'd like to extend an open invitation to everyone here to participate.
There's already been some great fanposts on this subject, some with amusing titles, and a very good one from TDTPMG, which was cross-posted at his own blog, live above mediocrity. If you can stand it, there's also SpursTalk.
There's also been the usual excellent analysis over at 48 Minutes of Hell, including an article about some relatively unknown Euros(a Spurs front office specialty) - but really, they've outdone themselves already with the analysis, and I'm sure they're not even close to being done.
And then there are the "professionals" over at the Express-News. I'm singling out an interesting article on the possibility that Bruce Bowen may want out, and Jeff McDonald's roster analysis as points of intrigue.
I'm going to offer my own perspective on the Spurs' predicament in this post, and things are not gumdrops and lollipops for me. The Spurs have stopped playing Spurs basketball, and it's high time we got it back. How does that happen?
It all starts on defense - these are still the San Antonio Spurs, right? Remember the "boring/dirty/slow" monikers the Spurs used to have? I loved those days, because the opponent was always being suffocated, giving the Spurs a mental edge like no other. Then you could always count on opposing players to use those terms to describe the way our Spurs punished them for trying to score.
You'll notice Tony Parker is confused in the photo there. That's because he's been playing the same kind of defense he always has - mediocre. The difference in the past was that the other Spurs on the floor could effectively "hide" Tony on defense. Not so anymore - we have more mediocre, and even outright bad defensive players on this team than ever. Two of them were our starting forwards this season in the name of more offense, which was not provided. This has to be nipped in the bud, now. I want to see SPURS basketball return to what it does best - destroy the psyche of the opponents through stifling, merciless defense.
That's my overall view of the situation - now for some [hack] positional analysis, after the jump.
I'll start with the areas of greatest need and work my way down from there.
Small Forward
Current Roster:
Bruce Bowen: The demon of defense. He needs to stick around, whether he still plays or becomes an assistant coach. Imagine Bruce teaching the likes of Williams/Hairston/Gist/[insert free agent name here] how to play SPURS Defense.
Michael Finley: Still has a decent shooting touch, but that's about it. He tries, but he's terrible on defense at this point. I wouldn't mind seeing him back, but not as a starter.
Ime Udoka: We'll keep either Bruce or Ime[maybe even neither]. Bruce is still under contract, Ime's a free agent - that seems to point in the direction of Ime not coming back. I'm not opposed to keeping him around, as long as it isn't at the expense of a younger, more athletic player.
Other Possibilities

Malik Hairston: I have a lot of hope for this kid. If he ever develops a jump shot, his ridiculous athletic abilities would make him quite an asset. He's a bit undersized for a SF, however, and could be used at SG.
Marcus Williams: This guy is a bit of an enigma - we drafted him a few years back, then he sort of disappeared. He showed some promise in Austin, but didn't get much of an oppurtunity with the Spurs this season. I think the Spurs were playing "keep away" with him, so they could bring him back. Let's hope the things we keep hearing about his ballhandling and decision-making are right
That's right, lay it up - Pop won't play you if you dunk it.
James Gist: One of our 2008 draft picks, his play in Italy has been drawing a lot of praise, particularly for his defense. That's encouraging, but expect him to play for the Toros, not the Spurs, next season.
Trevor Ariza: Ariza is not the greatest shooter - but he's a good, athletic SF that we should at least pursue. He leads LA in steals, and generally is at his best creating havoc on the defensive end. The Lakers will probably match our offer if it's too low, but this kid can play. He'll only be 24 next season - the time to steal him is now.
Linas Kleiza: Denver is loaded at SF, and might bite on a trade for this guy. This would give us good size at SF, and Kleiza's PER is pretty unbelievable. He only makes $2.7M next year.
Power Forward
Current roster:
Matt Bonner: This guy can't play defense, post up, or rebound. He can hit 3-point shots... sometimes. Look for him to be shipped out if 'Sheed comes on board.
Fabricio Oberto: Fab has been good for us, even though he wasn't considered NBA-quality by a lot of other teams. However, after the heart trouble he's had, maybe he should just call it quits.
Kurt Thomas: He's worth what we pay him, no more. He's good, not great, at defending in the post and rebounding, even the occasional offensive board. He'll probably stick around unless we can trade him(along with other pieces) for Camby.
Other Possibilities
Rasheed Wallace: A lot has been made of 'Sheed wanting to join the Spurs. I certainly wouldn't mind, if the price is right. I wouldn't want him starting and playing a lot of minutes, though - we're old enough as is. Imagine him in an Horry-type role, with an f-you attitude to boot.
Are you sure we can't still sign Scola?
Center
Current roster
Tim Duncan: He still has it, as evidenced by the last game of the regular season, and games 4 & 5 against Dallas. But, I'd like to see him move over and play his natural position of PF. That requires us either making a big trade, or using Ian as a starter(see below)
Ian Mahinmi: This kid is the biggest key to whether we will be a better team next season. I think he needs to be in the starting lineup(with Duncan back at PF) at the beginnng of the season, to accelerate the learning curve. It's time for the Big Frenchman and the Little Frenchman to play together.
Drew Gooden: Drew has some good skills on the offensive end, and I would rather keep him than Bonner. However, it's all going to hinge on how much money he wants. The ball's in your court, Drew.
Other Possibilities
Marcus Camby: This would be a dream come true. The thought of Camby and Duncan roaming the paint should rightly strike fear into anyone who ventures into their realm.
Tyson Chandler: New Orleans is likely still looking to trade Chandler. If(and only if) he's healthy, this would be a very good partner in crime for Duncan, emphasis on his defensive abilities
Rasho Nesterovic: WHAT? Seriously? OK, so this is not an ideal option, but his defensive presence would be enough to patch up some of the leaks we had in the middle this season, though I'd rather go with a better option if possible.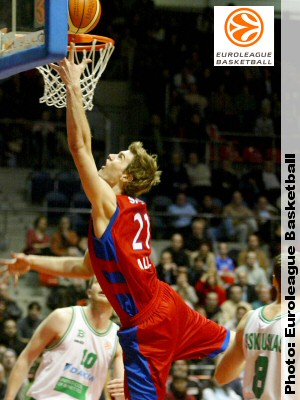 Tiago Splitter: It's a longshot, but the Spurs could conceivably sign him over the summer. This would instantly give us an option somewhere between the defensive skill levels of Camby and Rasho, but with some offense to boot. My bet is the Spurs wait 'til next summer, though. The idea of a Mahinmi/Splitter combo gives me chills.
Point Guard
Current Roster
Tony Parker: Tony isn't going anywhere. He's now the most important member of the big 3, if we're speaking honestly about the Spurs' long-term situation. He set career highs in points and assists this season, with a long stretch of dominance from the all-star break on. Fingers crossed on no injuries from his time with the French national team this summer.
George Hill: I know it kills Pop to call Cubits a point guard, but that's the postion he's best suited for. I see him backing up Tony, and occasionally Roger, with Manu sliding over to the 3 on those [hopefully rare] occasions. He needs to develop his decision making and finishing skills a little better, though.
Jacque Vaughn: He better not be back. That's all you need to know. Doesn't he have another "precious" ring to lust after anyway?
Other Possibilities:
Anthony Carter: I'd imagine that with Pop's confidence in Hill non-existent, and the disaster that is Roger Mason at PG, the Spurs will be looking for a veteran PG to fill out the roster. Here's a guy they could get on the cheap, who's old but doesn't suck as bad as the JV.
Shooting Guard
Current Roster:
Roger Mason: Roger is a shooting guard, Pop. And he's one hell of a shooter. I expect him to be back unless an irresistable trade deal beckons. Also, does anyone else think his hair makes him look a bit like the Tanqueray guy?
Manu Ginobili: The foremost of all deities in the PtR pantheon. We must all pray for Manu to save the season.
Other Possibilities
Ben Gordon: This has been suggested quite a few times lately, but I don't like it at all. He's going to want too much money, and he won't play defense. I honestly don't believe we need any more depth at this position, since Hill should be able to pick up the slack.
_________________________________________________________________
There's also the draft, but I won't speculate on that until it gets closer. Maybe we can replenish our farm system.
So that's what I have so far. There's no way I could ever include all possibilities, so I leave that to you. As stated in the beginning of this post, I would love to hear everyone else's ideas. Discuss away!