Spurs fans know about this guy. He's tall. He's young. He's French. His name is pronounced "yawn." He played volleyball until age 16ish.
Considering he was a first round pick, I assume the Spurs had to sign him to a two year guaranteed contract with team options for the third and fourth year.
I presume he'll start the season as the starting center for the Toros, where he'll remain no matter how frustrated any of us get with Elson's inconsistencies, Oberto's occasional inability to grab a rebound and Horry not even pretending to try. I'm just telling you guys now. HE'S NOT GOING TO PLAY FOR THE SPURS THIS YEAR. STOP DREAMING.
(But Tony did start at age 19. Just sayin'.)
So this means I pretty much have to go to the Austin Toros home opener, right? I'll be sure to find at least one positive aspect of Ian's game, blow it way out of proportion and then proceed to deify him with praise and worship. Maybe I'll even have a cheering section coordinated by half time. What will we call ourselves? Well, duh: The Yannis.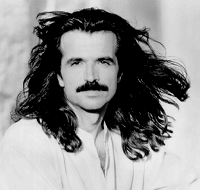 Yanni's Canadian you know. And Canada's basically New France.