First let's address the obvious. Westbrook is a freakish athlete. He has an incredible motor, he's fast, he can jump pretty high, and he's strong. He puts up incredible numbers, with a 21-6-7 line for the season. When you watch him play you see a player that's as explosive as they come. He dunks with authority and look at him, he works hard on defense and he comes up with all of those steals. He's a fiery competitor who looks like a superstar, like the next generation of the NBA.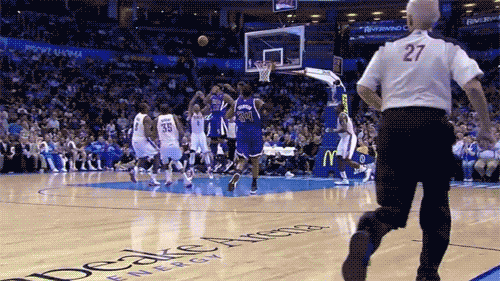 He's so exciting and explosive. There are few players in the league that can do the kinds of things that he does. He looks unstoppable, and you've seen it with your own eyes. He's one of the best players in the league, easy.
Your eyes are lying to you.
There's no doubt that his production is superb. In fact, the only other player in the league that puts up at least 20 points, five rebounds, and six assists per game is LeBron James. Russell is certainly a great rebounder, but what about his points and assists?
Before we dive in, why don't you take a guess at Russell's shooting percentages from the field and from deep. Then guess where he sits in terms of points per possession. Which quartile, league wide, does Westbrook fall into?
What if I told you that Russ shot 43.7% from the floor and 31.8% from deep this season? What if I told you that he turns the ball over 40% more per 36 minutes than the somewhat turnover prone Manu Ginobili while only producing 17% more assists? What if I told you that all of his regular season numbers and stats get worse in the postseason with the exception of rebounding on a per minute basis? Would that change how you view Russ?
Okay, maybe I'm being too hard on him, after all, most of his shots are the unassisted variety and the competition gets tougher in the playoffs.
But  his shot selection -- almost a third of his attempts (32.2%) this season came as the pick-and-roll ball handler. He wasn't bad in this situation, but he certainly wasn't elite either. His 39.2% shooting for .84 points per possession (ppp) ranks him 57th in the league among qualified players. For comparison, Tony Parker ranks 25th and takes 45% of his shots as the PnR ball handler while shooting 48.1%.
Next up is in transition, where he takes 23.4% of his attempts. His ppp jumps way up to 1.08, and while that number looks okay, it's much easier to score in transition. That 1.08 ppp is only good for the 182nd best mark in the league.
His next most used play type is isolations (15.5% of his attempts), and here he does better, shooting 42.9% and producing .94 ppp on isos which ranks him 40th league-wide. That's pretty good, but it doesn't make him elite. The biggest problem here is that a quarter of his attempts in an iso result in him jacking up a three and he only connects on 23.3% of them.
Here's the most interesting number to me -- 29.1. That's the field goal percentage that Westbrook shot as a spot-up shooter this season. These are the assisted, usually open looks that NBA players generally hit a a good clip. Westbrook's .7 ppp as a spot-up shooter ranks him 317th in the league. He only get's 6.4% of his attempts this way, but he's absolutely terrible at shooting the ball in that way. 60% of his spot-up attempts are threes, and he hits on only 21% of them.
Finally, Russell scores .9 ppp overall. That's good for 238th in the league. The maximum number of players in the league at any given time is 450. As hard as it may be to believe, overall Westbrook's points per possession rank him as below average.
Okay, back to Russ' three-point shooting. He's shot 30.5% from deep over his career. Among players that have shot at least 1000 threes in their career and played 10 seasons or less he is the worst three-point shooter of all-time. If you allow the guys who played for 11 seasons or more, Westbrook still ranks as the sixth worst of all-time. This is a guy who takes a quarter of his shots from behind the arc.
So he's not a good spot-up shooter, and he's awful from deep, but he can get to the hole whenever he wants to. It's a heck of an ability. I mean, all of those dunks he gets, hardly anyone can make those plays. Shouldn't they place him among the elite.
Well, while the average player in the NBA converts 64.7% of their shots at the rim, Russ only converts 61.6% of those field goals, 5% below the league average. I'm trying to understand how he's considered elite if he can't finish at the rim, which is the one place he's not a bad shooter from. He can seemingly get there at will, but he can't get it in the hole at even the league average rate.
So those are his numbers from the regular season. The great players in the league up their games when the stakes get higher, and Russell's production increases just like they should for any top-10 guy. He's scoring 25.7 points per game while grabbing 7.6 boards and dishing 8.1 assists this postseason. At first glance, those numbers are staggering.
Let's look a little deeper. He's shooting 4.1 more shots per game and turning the ball over .6 more times per game while tabbing 1.2 more assists than he did in the regular season.
His shooting is down to just 41.6% from the field and 27% from deep, but he's taking almost 16% more shots per game. That's not good during the time of year that the greats bring their A-game.
Let's look at the advanced stats for a moment. Russ' win shares per 48 minutes (ws/48) was .178 for the regular season which would tie him for 16th best in the league if he had qualified. His postseason ws/48 is sitting at an above average (.100,) but nowhere near elite .139. For comparison Manu Ginobili has posted a .152 ws/48 during the postseason. The mighty Tiago Splitter is currently sitting at .251 ws/48.
You know how many players on the Thunder had a higher effective FG% than Westbrook this season? 13!
But Russ has tallied three triple-doubles this postseason. The rest of the league has 0 combined. That certainly seems elite. Do you know how hard it is to record a triple-double? Even LeBron hasn't recorded one this postseason. I guess my response to that is: who cares? Westbrook shot a mere 45% in those games and turned the ball over 15 times.
There's no doubt that Westbrook has the potential and the talent to be a truly great basketball player. Sometimes he puts it all together for a game and those are the ones that stand out. His traditional box score numbers are incredible, I get that part. His amazing plays look cool and he puts up crazy numbers. Maybe I'm not getting something, but to me that doesn't make him a great player. I just think that when you look a deeper, it's obvious that our eyes have lied to us about how good he is. Or maybe it's just me
What am I missing?