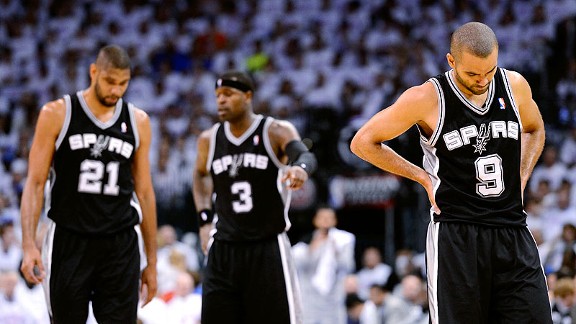 I know we(Spurs fans) don't want to be reminded of the beating we received from the Thunders in the last season's WCF. It is not my intention to do so.
I am a Spurs fan from 2002-2003 up to the present. I have witnessed 3 Spurs championship(03, 05 and 07). I have witnessed the 2007-2008 Spurs can't get pass the Lakers because of Manu's ankle. I witnessed the down years of 2008-2010. I am a Spurs fan. But how does one know that he is? You may or may not agree with me but I think it's about the pain you feel every time the Spurs lose a game. As the saying about love goes "if it hurts, it's true".
I was not so pumped up last season when the Spurs, again, was the West #1 seed. The first round exit against the Grizzlies was still there in my mind. When the Spurs ran over the Jazz like a tank, I was not that pumped up either. In my mind, it was the Jazz, the 8th seed. I'm just glad the Spurs made it out the first round. But when the Spurs dominated the Clippers in the WCSF, I started to get excited. On to the WCF and just one series away from a 5th Finals appearance.
Game 1 of the WCF, I watched the Spurs overcame a 9-point deficit and win the game. Game 2 was another story, the Spurs won it convincingly. Then, Games 3, 4, 5 and 6 happened. As I watched those games I got angry, I cussed, I shouted, I criticized the Spurs for not being able to stop Perkins and Ibaka from draining those twos but deep inside I was hoping against hope that somehow the Spurs will find a way to win. They didn't.
I was devastated, an impressive 10-0 playoff winning streak ended with a 0-4 losing streak. For the entire off-season, I stopped reading PtR posts and articles(I was already a reader long before I signed up). I did not open NBA.com either. I dreaded all the articles those journalists would write. I lost enthusiasm in sports articles, something that I consider my hobby.
Fast forward to 2012-2013 NBA Regular Season, here I am again, hoping for that elusive 5th championship, keeping the faith, rejoicing every win and feeling down on every defeat.