What's up PTR! For those of you that do not know who I am, I will gladly tell you. My name is Mike and I have lived in San Antonio for 15 years. I am a die hard Spurs fan and do go to as many games as I can. I have been a member of PTR for many years and though I have not posted much, I have in the past done these simulations with the game NBA 2K. We are already well into the season and with the new year here, I will be doing my simulations once again.
What better way to kick it off then with the game commencing tonight as our San Antonio Spurs will play host to the Los Angeles Lakers. Just a note, I did not play this game as I ran it with 12 minute quarters and it is computer vs computer.
Here we go with the first installment of NBA 2K13 Simulation!
Updated rosters were used from 2K Sports. The lineup though during the game did show Dwight Howard in the starting lineup for the Lakers. The Spurs took the floor with Tony Parker, Danny Green, Kawaii Leonard, Thiago Splitter, and Tim Duncan. For the Lakers, Steve Nash, Kobe Bryant, Metta World Peace, Pau Gasol, and Dwight Howard. For those of you that have NBA 2K13, you guys know what type of game this is. I was sitting here watching this simulation and was getting pretty damn excited as it was going back and forth.
The game started off strong for the good guys. We got off to a quick 7-0 lead. Just like in real life, the virtual Lakers at the start looked pretty sluggish. D'Antoni called for a few quick time outs. He must of said something to spark the Lakers because they were making their move and quickly went on a run of their own. Kobe Bryant would come to the rescue as he has been doing for this Lakers team through the years, but as we know, nothing good has been happening lately. With a tightly contested first quarter, the Spurs would find themselves up one, 32-31. Gary Neal would turn out to be the key player for the Spurs and their bench. He checked into the game in the first nailing two of his 4 three pointers.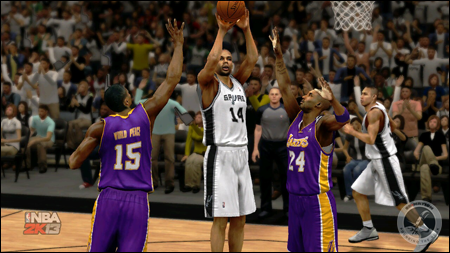 Dwight Howard and Pau Gasol would look to be too much for the Spurs to handle down low as they would combine for 25 rebounds and 47 points. Now mind you, I was yelling at my television while this game was going on. "Come on Splitter, box out Howard!!!!" "Come on Pop, get em out of there!"
It got pretty intense in my household, game or not, it was still my Spurs.
The second quarter continued to go the way the first went. Back and forth. There were ties, lead changes. Spurs would go on a run, then the Lakers would.
At the half, the good guys were up two, 60-58.
Second half was no different than the first. The game continued to go back and forth, the Spurs bench would be the big key factor. Neal would finish with 23 points off the bench. The bench would outscore their counterparts 46-14.
The Spurs would pull with 2:00 left into the game. Tony Parker would finish the game with 30 points and 9 assists. Kobe Bryant would lead the Lakers as he would score a game high 39 in the loss.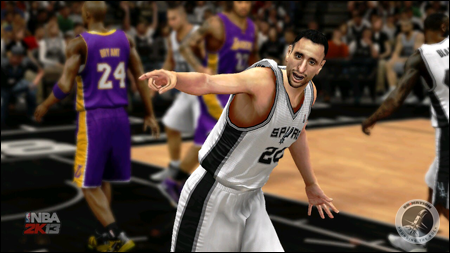 My question for you guys. Would you want to see more of these in the future?
Los Angeles Lakers at San Antonio Spurs
Jan 9, 2013
1ST
2ND
3RD
4TH
SCORE
Los Angeles (15-19)
31
27
31
25
114
San Antonio (27-10)
32
28
30
30
120
Los Angeles Lakers
STARTERS
MIN
FGM-A
3PM-A
FTM-A
REB
AST
STL
BLK
TO
PTS
S. Nash
37
4-8
1-2
2-2
4
5
0
1
1
11
M. World Peace
36
1-7
1-3
0-0
4
2
0
0
1
3
K. Bryant
46
17-34
0-5
5-5
8
9
1
0
4
39
P Gasol
37
7-14
0-0
4-4
12
3
0
0
0
18
D. Howard
37
14-17
0-0
1-4
13
3
0
2
1
29
BENCH
MIN
FGM-A
3PM-A
FTM-A
REB
AST
STL
BLK
TO
PTS
J. Hill
14
3-5
0-0
1-2
4
0
0
0
0
7
J. Meeks
16
2-5
1-2
0-0
0
1
0
0
0
5
D. Morris
10
1-1
0-0
0-0
1
1
0
0
0
2
C. Duhon
12
0-3
0-1
0-0
2
5
0
0
2
0
A. Jamison
-- DID NOT PLAY --
D. Ebanks
-- DID NOT PLAY --
E. Clark
-- DID NOT PLAY --
TEAM TOTALS
49-94
3-13
13-17
48
29
1
3
9
114
San Antonio Spurs
STARTERS
MIN
FGM-A
3PM-A
FTM-A
REB
AST
STL
BLK
TO
PTS
T.Parker
37
15-29
0-0
0-0
5
9
2
0
1
30
D. Green
33
5-10
4-6
0-0
2
3
2
0
0
14
K. Leonard
33
4-9
0-1
2-2
3
2
2
0
0
10
T. Splitter
25
2-2
0-0
4-4
4
1
1
0
0
8
T. Duncan
32
6-14
0-0
0-0
8
2
0
0
0
12
BENCH
MIN
FGM-A
3PM-A
FTM-A
REB
AST
STL
BLK
TO
PTS
G. Neal
23
9-13
4-6
1-2
1
2
1
0
0
23
S. Jackson
15
4-5
0-0
1-2
1
2
0
1
0
9
D. Blair
17
3-3
0-0
0-0
10
2
0
0
0
6
M. Ginobili
15
2-8
0-2
0-0
0
1
0
1
0
4
B. Diaw
24
1-2
0-0
2-2
2
0
1
0
0
4
N. De Colo
-- DID NOT PLAY --
M. Bonner
-- DID NOT PLAY --
TEAM TOTALS
51-95
8-15
10-12
36
24
9
2
2
120