I wrote this last night but didn't want to publish it because I had already posted something else.  I could have been a "profit" haha.  Here it is anyway.
I read something over at 48MOH warning about having too many sacred cows.  Many of us around PTR might need to soon realize trading fan favorites is part of the business or some feelings could be hurt this off season.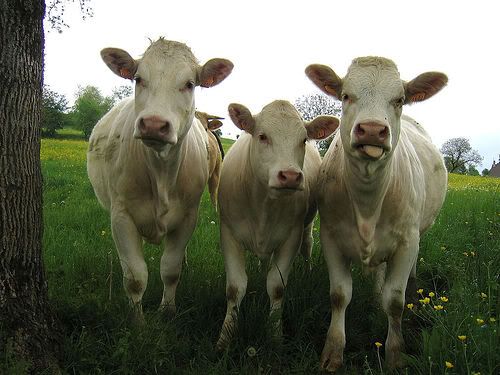 As Spurs fans we tend to place a lot of value into a players character.  We dismiss rumors of trades or freeagent signings sometimes solely based on whether or not the player is a "Spurs guy".  The front office shares this sentiment but only to a certain extent.  Not very long ago Malik Rose and Avery Johnson embodied what the Spurs franchise is about.  Hard working, humble, team first guys, but we let them go at appropriate times and no one is losing sleep over it now.  Currently we are faced with an aged warrior who is just as responsible for our defensive success over the past 6 years as Timmy. 
When Bruce came to San Antonio there wasn't much hoopla about him.  I don't think that anyone could have predicted the amount of success he has achieved.  He was brought in as a defensive specialist but no one knew he would develop as The premire perimitter defender for several years.  On top of that, the once journeyman has become a wonderful role model and contributor in the San Antonio community.  Suffice it to say Bruce is a Spur through and through...It pains me to say that we need to trade Bruce but his partially garunteed contract is too valuable and his legs are too old.
Tim is the only untouchable.  This is not to suggest that I think we should trade Manu or Tony but if tomorrow the Cavs offered Lebron for Manu I'd be devestated and understanding at the same time.  If the Cavs offered Lebron for Duncan and the Spurs accepted I would no longer be a Spurs fan.  There isn't any praise I could throw on Duncan that hasn't been said before.  He is, quite simply, the best thing that has ever happened to the Spurs.  Duncan has done more for the Spurs than the Spurs have done for him.  If anything playing in San Antonio has hurt Tims legacy.  We've thrown around scenerios where Tim played in Boston or New York- could you imagine the hype?  GOAT all over the place. 
For everyone else in a Spurs uni we need to view their relationship with the franchise as employer and employee.  Putting an untouchable tag on too many players limits a teams options to improve and in a small market another handicap is the last thing we need.