Good evening all, it's Saturday night and we have a lot of action! And by that I mean 8 basketball games, you gutter-minds.  The Wizards host the Pacers, the Pistons host the Dubs, the Bulls have the C's in town to hand them their 25th blowout in a row, the Mavs host the Cats, the Bucks host the Blazers, the Nuggets host the Suns, the Jazz host the Lakers, and the Kings host the T-Wolves in what is sure to be 'Scrub Match-up of the Night.' As always, who do you want to lose most??
Update:  Pacers defeats Wiz, 114-113 (Both teams removed from poll, no votes.)
Detroit beats GS 104-95 (Pistons, W's gone.)
C's blowout Bulls 106-80 (Gone.)
Mavs beat Cats 98-97 (Cats gone.)
Tha Lakers lose! (Jazz gone.)
Bucks beat Blazers 108-101. (Gone.)
Nuggets beat Suns 105-99.
Kings beat T-Wolves 120-100.
 vs   
  vs 
vs 
vs 
  vs  
  vs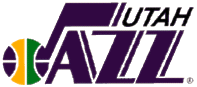 vs 
  vs